How Gerringer Dairy Found Unforgettable Customer Service
Farmers across North America and Europe are using Horning products. But even though the Horning brand is well-known, Horning Mfg continues to cultivate the thing they care about most–relationships with their dealers and customers. Anna, one of their customers from North Carolina, knows that for a fact.
The Dry Spell Hits
All of the machines from Anna's farm were old and worn out, but her crew did their best to make them work each season. Until last year. In 2022, they had an unusually dry growing season. As a result, they needed to purchase corn from their neighbors. However, since their neighbors plant their corn in closer rows, buying their corn wasn't an option with Anna's current machinery. 
Bad Crops, Ruined Head?
With its ability to harvest tighter corn rows, a Horning corn head was the answer. Anna's team mounted their new corn head onto the cutter, but it didn't work as expected. The cutter clogged constantly. Anna says, "The corn that we were cutting was probably the worst that you would ever want to see. It was waist-high, and the grass was equally as high. We spent a week trying to get the corn head running, without any luck."
The Horning team worked with Anna over the phone several times, but the corn head continued to clog.
Save the Crop
So early Saturday morning, Horning's owner, Leon, along with another employee took the 8 hr. trip from New Holland, PA to Anna's farm in Gibsonville, North Carolina. They brought tools and parts to work on the corn head, along with a new corn head in case they couldn't get Anna's going. Leon agreed that the corn was poor, but he also knew the power of a Horning corn head. It should be able to cut even corn like this. 
Getting It Done
Anna says, "After a few minor adjustments, we were able to cut the corn with ease. Mr. Horning observed the cutter for several rounds to make sure that there were no other problems before he decided to head home. He wanted me to be satisfied with the product before he left."
A few weeks later, Leon called Anna to see how things were going. Good news! The corn head was running smoothly. And that continued for the rest of the season. 
Service That's Unforgettable
When asked how she would rate Horning's customer service on a scale of 1 (worst) - 10 (best), Anna responded, "10+." Anna says, "I can not say enough good things about Horning's customer service. How many times does the owner of the company and designer of a machine drive 8 hours to help you work on a machine that is not working as it should?" 
How did a Horning corn head change Anna's harvesting experience? "We were able to purchase corn planted on closer rows than what we plant. The new corn head also allows for faster turns at the end of the rows," Anna remarks.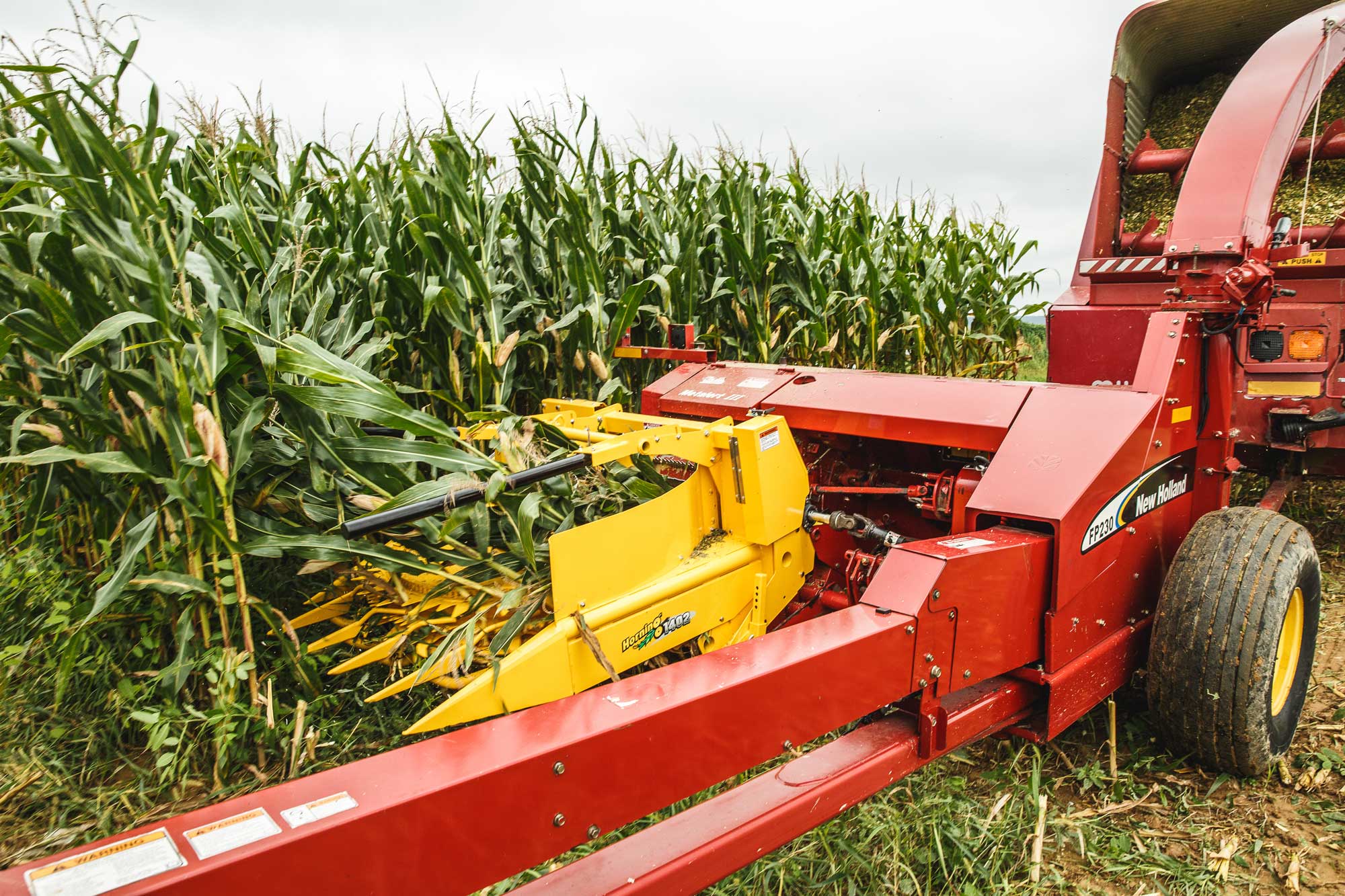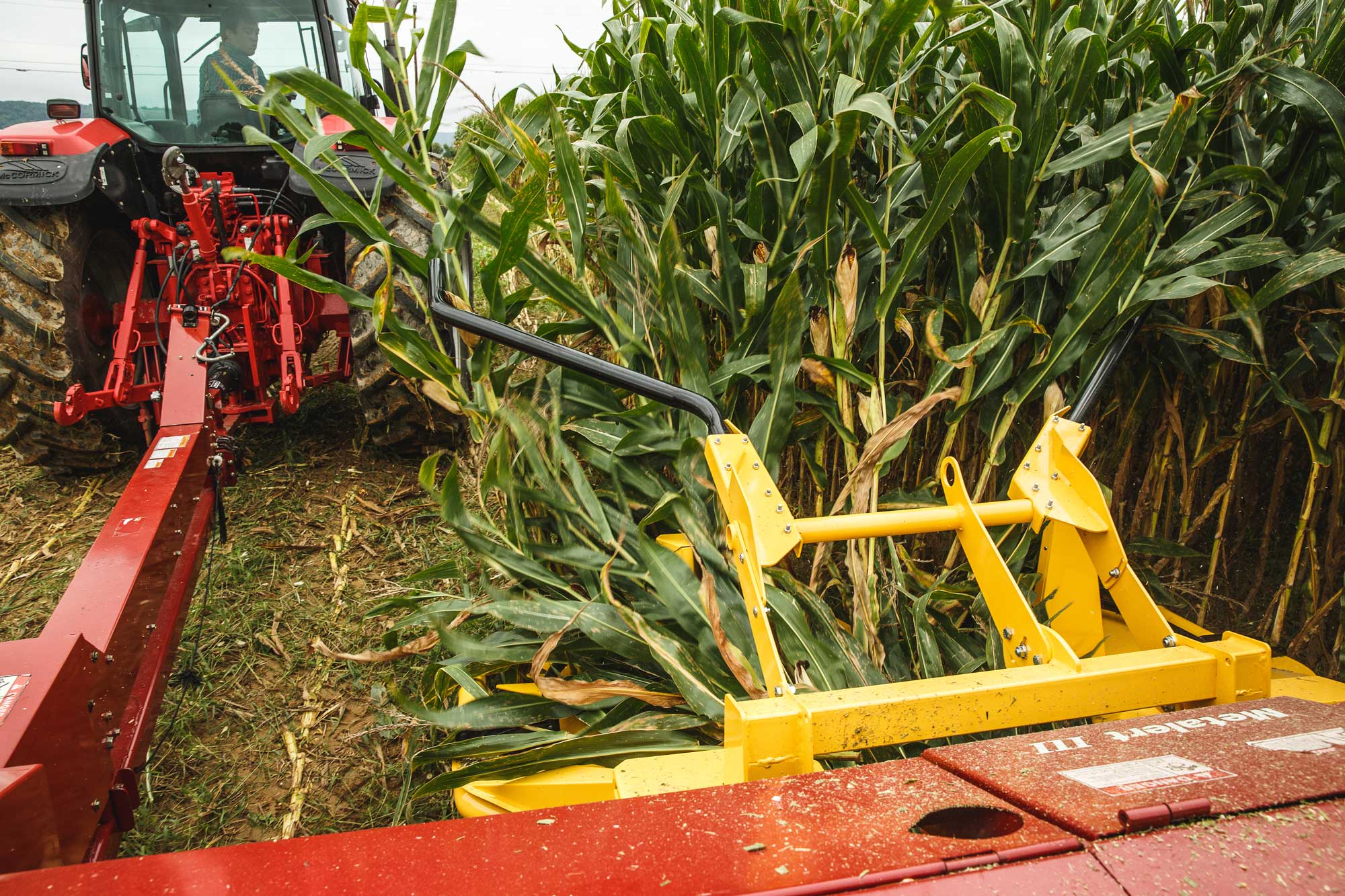 Why You Might Like a Horning Corn Head
Anna's team used a New Holland 892 Harvester. But you can easily install our corn heads on select models of John Deere®, Dion®  (3-row corn head only), New Holland®, and Gehl® pull-type forage choppers. Our corn heads come with a mount kit of your choice to make the fitting easy.  
Horning corn heads come in two main models: the 2-row rotary corn head and the 3-row rotary corn head.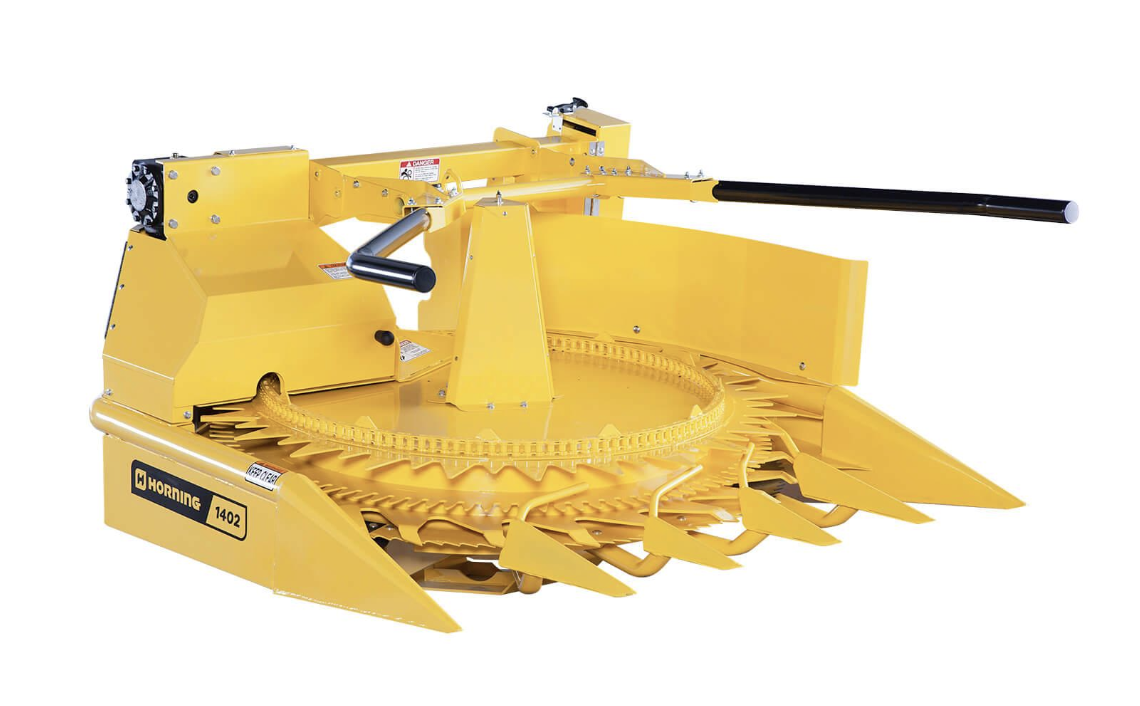 Row Independence
Anna used a 2-row corn head like this on her chopper. Remember how Anna mentioned the faster turns at the end of rows? That's from row independence, a flagship feature you'll find on all Horning corn heads. Row independence also makes it easy to catch the point rows, cut a wider (or narrower) gap, or harvest in any direction you need to. 
Flexible Forage Harvesting
Anna's Horning corn head allows her to be more flexible with how she harvests. A 2-row rotary corn head can cut a 58" swath no matter the direction or spacing. Fifteen-inch rows, twin rows, 20" rows, 30" rows–a Horning corn head can conquer all of these and more. 
Fewer Moving Parts
No one enjoys stalling their harvest to wait for parts to ship. We've engineered this equipment with a minimum of moving parts. You should be able to find a large portion of the drive train parts you need for this corn head at your local hardware store. A simple, straightforward design does wonders in cutting out downtime!
Horning 3-Row Rotary Corn Head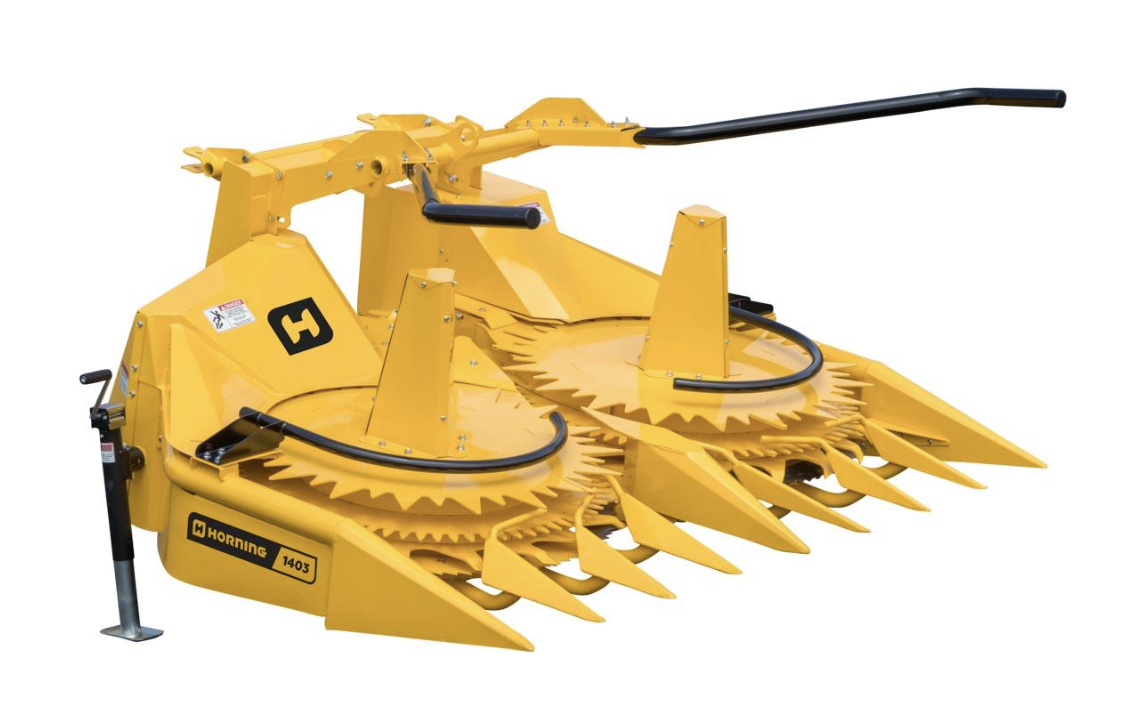 Large Cutting Swaths
If you're looking to chop more at a time, Horning's versatile 3-row corn head is built like a tank. The 3-row rotary corn head can cut an 88" swath, a 30" inch increase over the 2-row corn head. 
Super-Duty Gearboxes
The power-drive assembly with its five super-duty gearboxes muscles through strenuous conditions in the field. Virtually problem-free, the gearboxes are designed for excellent load transfer efficiency. We stand behind our gearboxes with a 3-year warranty.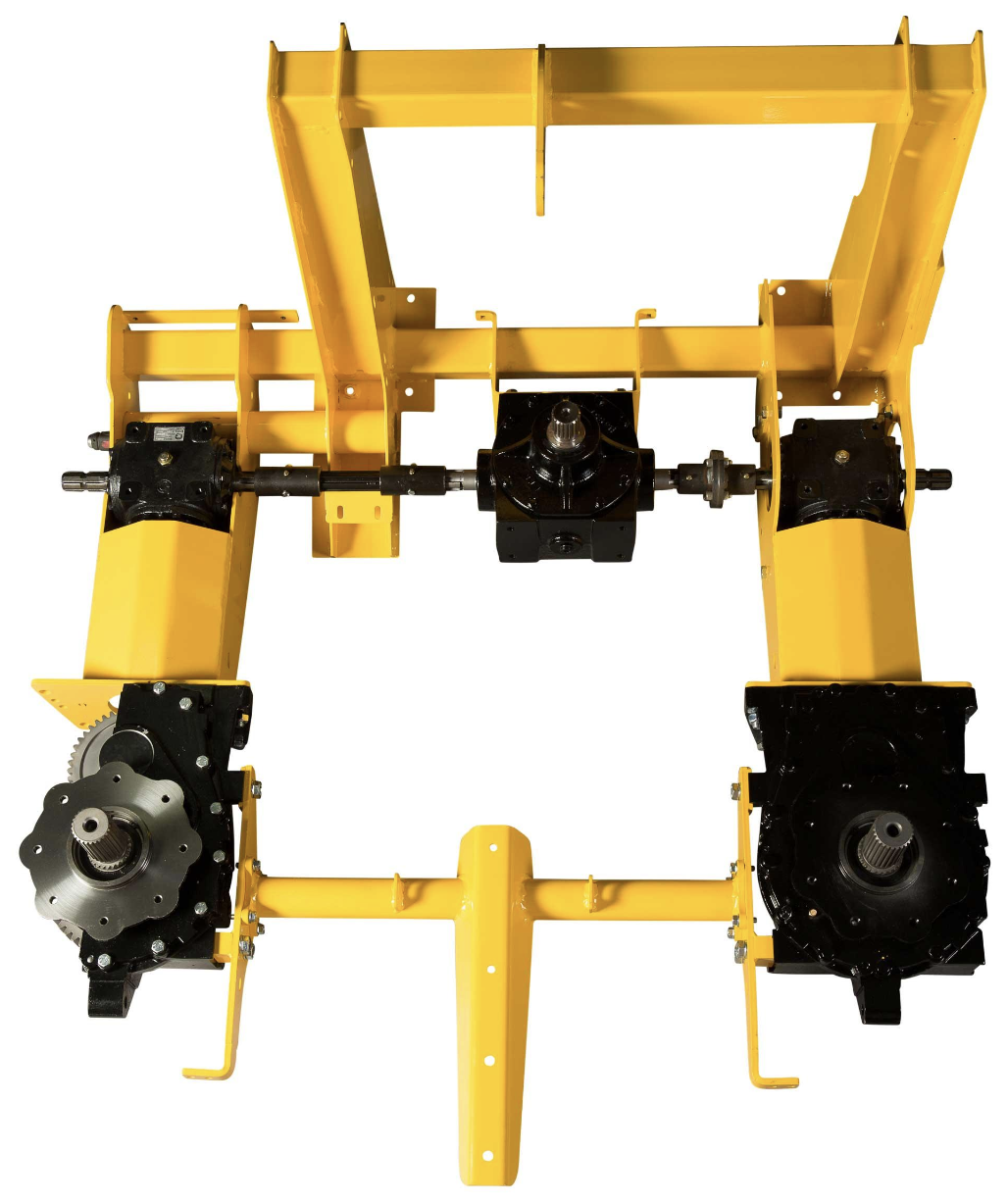 All Horning Rotary Corn Heads
A Smooth Rotary Flow
Speaking of efficiency, we've eliminated gathering chains on all of our corn heads. Have you experienced the frustration of stuff getting caught in the spokes or your chains "jumping off" and getting snagged in the head's knives or rolls? Instead of gathering chains, our corn heads use carbide-coated circular blades that make for a smooth rotary flow, mowing down the crop and flowing it through.
One-Year Warranty
Our one-year warranty for all of our corn heads is a workmanship and materials warranty.
Service matters. At Horning, we believe your equipment shouldn't waste your time or your harvest. You're helping to feed the world, after all. If you are interested in equipment that can shear off even bad corn, check out your local Horning dealer.