Product Bricks - Messaging points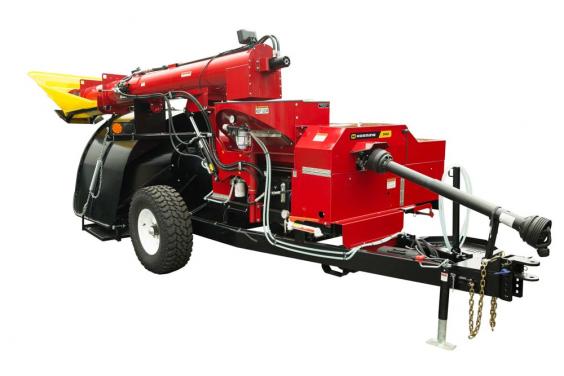 Super Smooth Bag Filling
Let's just say that not all packing auger-style bag-filling machines are smooth operators. The unique angled auger design on the Horning Shredder Mill packs the grain into the bag close to the top--nice and smooth.
Bag Better with a Hydraulic Disc Brake
Bagging operations can be touchy. Several thousand pounds of equipment need to move forward smoothly, not stretching the bag too tight, yet filling it snugly. The hydraulic brake makes this a breeze. Feather it in and out to keep the bag at optimum fill tension. Say goodbye to clunky tractor braking and lumpy bag fills.
Choose a Bag Size
Choose from 6', 8', 9', and 10' bag-size options to fit your exact needs. Fit the location space you have and the capacity you want in a given footprint.
Innovative Tunnel Guide Design
One socket and fifteen minutes are all you need to swap out the tunnel guide to a different size. We intentionally designed it to be easy to use and quick to change so you can get on with the job.
Road Warrior
This rig handles transport as masterfully as production and comes standard with road-grade tires. That's huge for custom bagging or multi-location farm operators.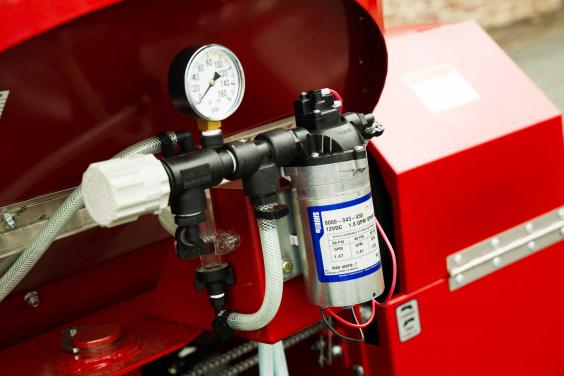 Optional Acid Inoculation Kit
If you inoculate your processed grain, you'll appreciate the design of this acid kit. Conveniently located as a bolt-on addition to the trailer tongue, it is perfectly positioned to be out of the way, yet just where you need it. The low platform makes it a breeze to load drums. Variable speed with fine-tune adjustment combined with different nozzles means you can choose a wide range of application rates. The nozzles are mounted where the grain exits the machine for a consistent application, but outside the machine to minimize oxidation.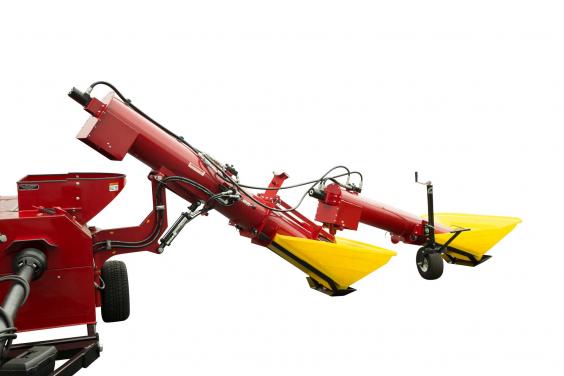 Optional Extension Auger
High production means the bagger moves forward further faster. The optional extension auger ensures that you can drop a pretty decent load in one spot without having to relocate. Depending on the load size and bag size, this can reduce grain dump moves from 4, 5, or 6 moves per load to 2, 1, or even none!
Operation and Towing Lights Come Standard
Operation lights are strategically placed for a well-lit view of everything important. The towing light kit features handy storage when not in use and only takes a minute to be ready to roll. Plug into the tractor, snap the lights into their brackets, and you are good to go.
Shredder 340 Bagger Model Specs
Capacity
2500 lbs. per minute
Approximate pounds per minute (varies with crop conditions)
Dimensions and Weights
Weight
4,500 lbs. Shipped
Transport Width
7'
Height
5' 6"
Length
12'
Auger Intake
12" dia. X 8'6"
Blower
40" dia. X 650 or 900 rpm
Drives
Rollers - 10 Kevlar corded
(front and rear drive)
Shredder - Chain belt
Hydraulic Pump - 2 B belts
PTO - Standard 55s Weasler 1¾" or 1⅜" with shear yoke
Auger - self-contained hydraulic unit
Packing Auger - Poly Chain
High Horsepower
Horsepower Ratings
Minimum: 125     Maximum: 225
Ready to discuss your Bagger Unit needs?
Contact us today at 717-354-5040
Get in Touch
Exploded Views / Parts Manuals