Product Bricks - Messaging points
Power Efficiency—Less Horsepower, Less Cost
High production is one thing, but the power to produce it is another, right? You'd never guess the incredibly low horsepower demand for the Horning Shredder Mill. Only 215-225 HP will run it with ease. Hammer mills anywhere close to a competitive size need a 300 HP minimum. This equates to a 35-40% fuel savings. Now that's money in your pocket.

Super High Speed
There are many things to love about the Horning Shredder Mill, but processing shelled corn at ridiculous speed clearly tops the list. At a solid 1.25 tons per minute, there is simply nothing comparable to it on the market. It's a beast.
I'm Doing Fine, Thank You.
The way the shredder mill processes corn is another reason it's a world wonder. We've optimized the latest Horning roll technology at the heart of this Shredder Mill to produce fine and consistent meal.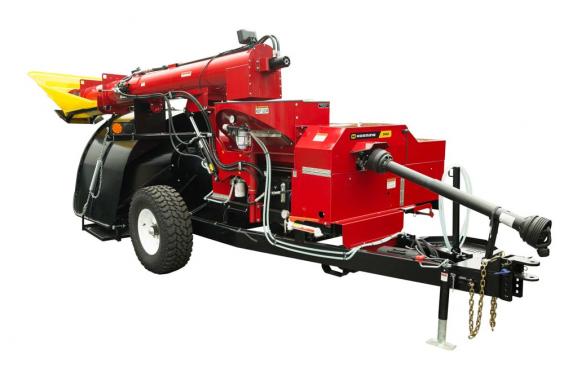 Self-Contained Hydraulics
No hoses to hook to the tractor. No added heat to the tractor hydraulic system. No concerns of exchanging dirty hydraulic oil in hydraulic systems. The hydraulics system is all onboard. Clean. Simple. Powerful. That's Horning ingenuity for you.
Chrome-Plated Rolls Come Standard
Chewing up kernels is demanding work. The highest wear resistance we offer comes standard on the rolls in this machine. It's all a part of the design to help you roll on with as little downtime and as few bottlenecks as possible.
One-Year Warranty
We want you to have nothing but success with your Horning Shredder Mill. We stand behind you with a one-year warranty on workmanship and materials on all Shredder models so you can operate with confidence.
The Shredder Process
Specially engineered for grinding high-moisture shelled corn to a fine, consistent feed with minimal horsepower.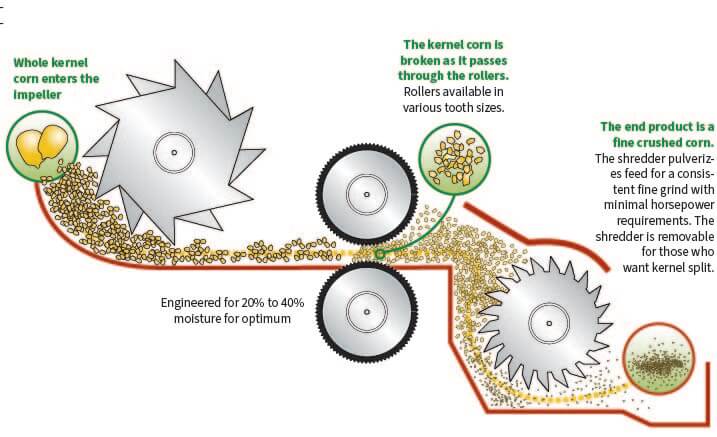 Mill Dry Corn or Moistures to 35%
Getting kernel processing just right is a challenge. Roller mills tend to grind corn too coarse. Hammer mills gum up when running high moisture corn. Eliminate the tradeoffs of backed-up loads or poor quality processing. The Shredder Mill mows through high moisture or dry corn alike without batting an eye, and all at full speed.
Ready to discuss your High Moisture Corn Shredder needs?
Contact us today at 717-354-5040
Get in Touch