Product Bricks - Messaging points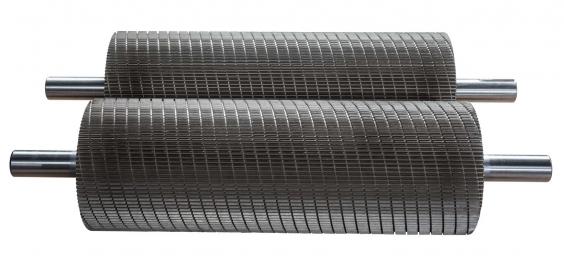 Bi-Directional Kernel Shear
Good-bye Sawtooth, Hello Dual Cut. The grooves in the Dual Cut roll are designed to spiral in opposite directions. This shearing effect pulverizes the forage as it is ripped sideways in opposite directions.
More Choices for Tooth Configurations
Horning has the highest number of tooth count configurations in the industry. Why? Because we understand your relentless drive to hone performance to the max. Match configurations to get the most out of you and your lean machine.
Sawtooth With A Groovy Grip
The Dual Cut roll features grooves running perpendicular to the teeth, giving it more "grip" points than its Sawtooth predecessor! This translates to more aggressive kernel processing action with increased throughput and consistency. Most applications see a dramatic production spike after replacing Sawtooth rolls with the Dual Cut.
Electronically Balanced for Fewer Replacements
Horning rolls ship only after they have been electronically balanced until they spin like a top, only better. Our perfectionist standards of quality control in roll balancing mean that you can count on reduced bearing wear and enhanced overall performance.
Precise Milling for Optimal Tolerances
From the shafts to the roll face, we sweat the fine details. We treat each of the hundreds of possible machine configurations with focused priority in manufacturing the highest level of quality. Getting the tolerances just right is important in minimal wear to both the machine and the parts. To us that's a big deal, so you can run longer with less expense and downtime.
Overperforming Wear Resistance
Our baseline standard is heat-treated steel for an industrial-strength tough-as-nails roll. Our fine-tuned process ensures excellent hardening without becoming brittle. Want to take it to the top? Add chrome coating for 2-3 times the lifetime of the standard heat-treated roll.
Impressive Processing Capacity and Less Downtime
With the superior grip of the Dual Cut roll, run at a wider gap than the Sawtooth while maintaining top quality kernel processing consistency. With the machine at top efficiency, boost your production as much as 12% over the Sawtooth while putting less strain on the bearings. Check out this dandy equation: Less strain = less stress = less breakdowns = less downtime.
Increased Chopper Forward Speed
Listen to the amazing throughput story as it is retold field by field. But the best part is the "happily-ever-after ending" – increased forward chopper speed. It's no tall tale either. We consistently see chopper forward speed increase up to 12% as compared to the same chopper running a Sawtooth.
With a Warranty . . . No Foolin'
Serving the customer isn't lip service around here. We guarantee the Dual Cut roll with a one year warranty on workmanship and materials.
Horning Dual-Cut Rolls fit John Deere, New Holland, Claas, Gehl, Dion, and Krone machines.
Ready to discuss your Dual-Cut Roll needs?
Contact us today at 717-354-5040
Get in Touch