Product Bricks - Messaging points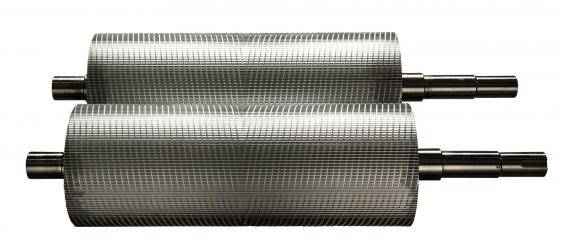 Aggressive Spirals & Square Corners
Where roughage hits the roll is no place to curve corners. The closer, more pronounced grooves with the chevron pattern create sharp corners on the teeth—those kernels don't stand a chance! The result is optimum cob grip and aggressive kernel processing action. The spirals spin out from the center, distributing stress balance across the roll, reducing end wear and enhancing forage feedthrough.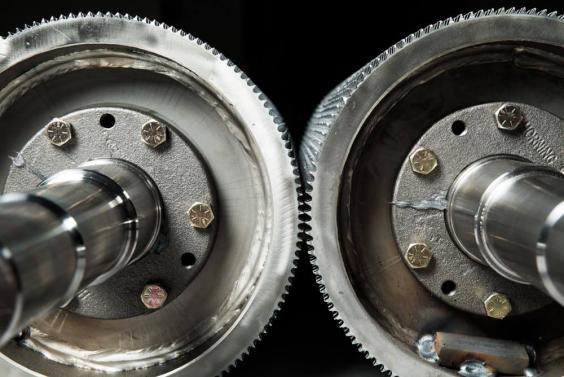 Combined Tooth Configuration Accents Speed Differential
Running processing rolls at different speeds has enhanced kernel processing scores for many years. Not satisfied, we took extreme processing beyond the unique roll pattern design by innovating where the rolls meet. We learned how to optimize kernel processing by running different tooth configurations that complement the speed variable.
Unwrapping the Cellulose for Maximum Digestibility
Every aspect of the Fibertech Chevron is designed to unleash the starch bound up in the kernels. As the forage passes between the rolls, the spiraling action, the tooth configuration, the tooth design, and the speed differential unwraps the cellulose, shredding the kernels into a consistent meal for maximum ensilage value and cow digestibility. Yum!
Quality Materials for the Long Haul
In the marathon we expect our rolls to run, the short haul is just the warm up. The relentless weeks and grueling rigors of chopping season reveal the stuff we are made of. That's why these rolls are constructed of premium stuff—selectively-sourced alloys that are closely monitored through manufacturing and meticulously inspected before shipping.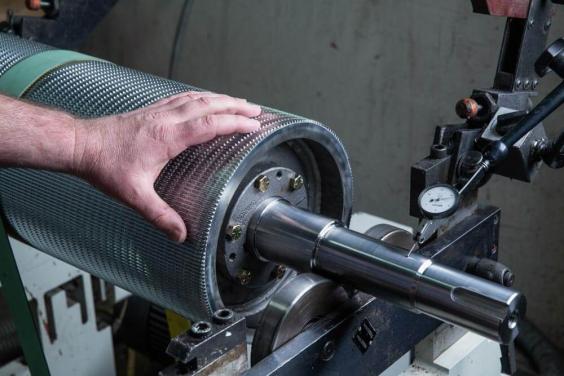 Easy on Your Machine
Every Fibertech Chevron roll leaves our facility expertly balanced to an extremely close tolerance. Shaft and roll body alike are engineered to run perfectly smoothly. The spiral action handles the forage in a way designed to distribute stress evenly across the roll. This reduces end wear, bearing stress, and overall machine stress.

Productivity Out the Chute
The Fibertech Chevron is a hungry brute. Watch it hog through amazing throughput, delivering consistent kernel processing at extreme levels with much higher volume than traditional sawtooth rolls.
Connecting Your Horsepower to Tonnage
As forage harvesting technology advances, greater horsepower steps onto the field. Harnessing those horses is key. The Fibertech Chevron roll is extremely power efficient on a per ton basis, optimizing the horsepower to tonnage conversion. The intense work of shredding the cellulose is no longer a bottleneck. With Fibertech rolls in the equation, horsepower equals tonnage out the chute.
Horning Tough for Up to 3x Wear Life
Though it goes without saying, the Fibertech Chevron roll is built like you'd expect a Horning to be. Every aspect of the engineering is simple, straightforward, and built to last. All Fibertech rolls are finished with our highest wear-resistant finish of heat-treated chrome plating, which extends the wear life up to 3x on self-propelled choppers.
Horning Fibertech Chevron rolls fit John Deere, New Holland, Claas, and Krone machines.
Ready to discuss your Fibertech Chevron Roll needs?
Contact us today at 717-354-5040
Get in Touch